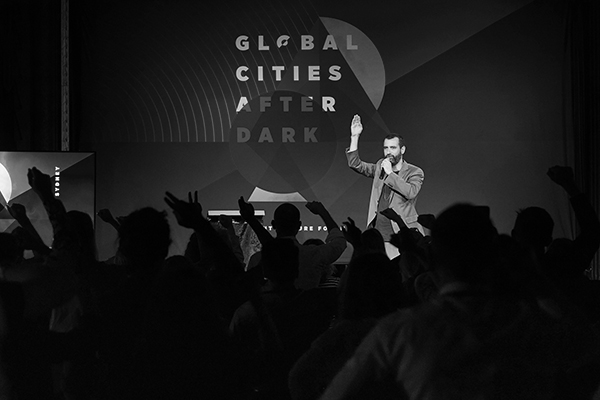 The Global Cities After Dark forum releases today its most investigative program by bringing together a government with creative industries; urban planners; health and safety figures; and hospitality leaders to explore the strategies and solutions that different cities around the world are using to support their nighttime culture whilst also addressing the challenges within nightlife.
The Global Cities After Dark 2018 program is stacked with seven keynotes from leading international and domestic figures hailing from a diverse array of fields relevant to night time culture and night time economy. In November 2018, the forum will take place over one day and one night, (with an evening city tour planned) at UTS' Dr Chau Chak Wing building in Ultimo.
Lord Mayor Clover Moore in conversation with Mirik Milan
Keynote: Unlocking the potential of Detroit's 24-hour economy: Adrian Tonon
Keynote: Collaboration and influence within communities: Amanda Maxwell
Keynote: Collectively tackling sexual violence after dark: Hayley Child Success and failure playbook
Keynote: A Club Called Rhonda – Building inclusive dancefloors: Loren Granich Building platforms for coalition and collaboration
Keynote: Sydney nightlife and creative sector advisory panel update
Keynote: The NSW Parliamentary Inquiry into Music (and what this means for the night time economy)
Following the seven keynote addresses will be a series of themed Expert Sessions which will be hosted by a number of specialists throughout the afternoon. These expert sessions have been carefully curated to cover a diverse and fascinating array of subjects.
Research led advocacy and policy
International networks and developing a global knowledge base
#MeToo and nightlife – a safe night out for all
Success and failure playbook
Identifying cultural identity and crafting compelling stories
Building platforms for coalition and collaboration
Access all areas, accessible for all
Understanding your city's creative requirements
Global Cities After Dark runs from 8:30am – 7:30pm on Tuesday 13 November, with a welcome event and city tour on the evening prior of Monday 12 November.