Global Cities After Dark Parramatta concluded a week of industry sector workshops, with the 'Celebrate Local' dinner to highlight the week's key takeaways, looking towards a new chapter for Western Sydney's nightlife.

The dinner was the first time local and state government and industry stakeholders from hospitality, music, entertainment, major events and cultural tourism, transport, and health and safety came together since the pandemic began.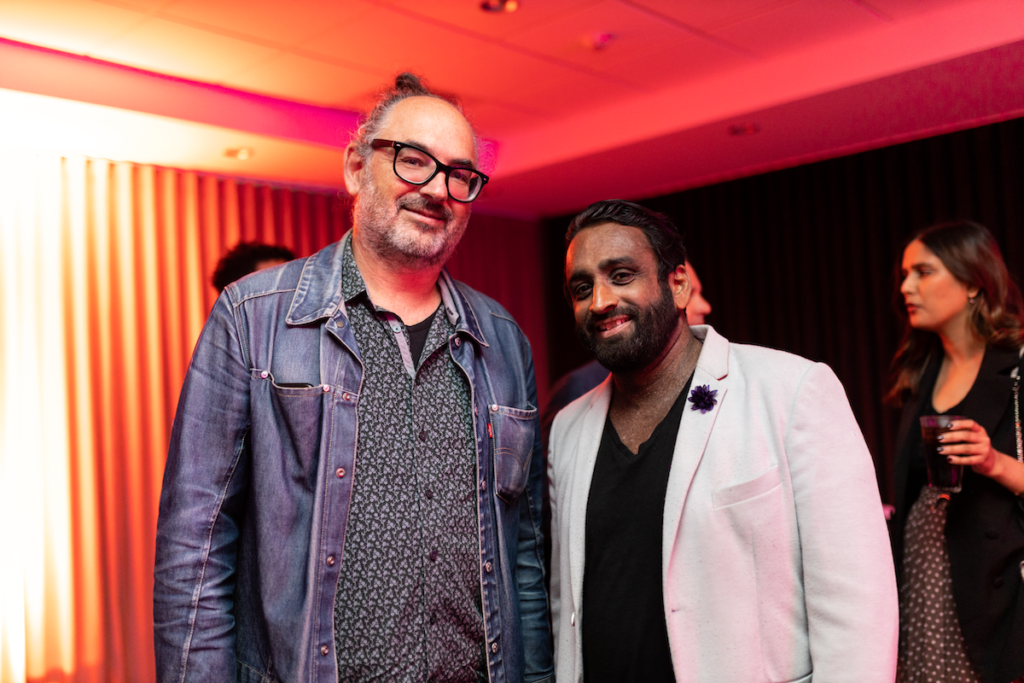 The closing event was an evening of entertainment and discussions giving some airtime to the overarching themes and highlights from the week-long conference. Hosted by TV Presenter and Actor Matty Mills, who shared his own personal experiences of being born and bred in the Western Suburbs, Matty facilitated a future proof panel discussion from a selection of industry experts; Vyvienne Abla (Vyva Entertainment), Andrew Levins, Michael Jollon (City of Parramatta) and Jeffrey Stein (City of Parramatta) who had all hosted sector workshops throughout the week.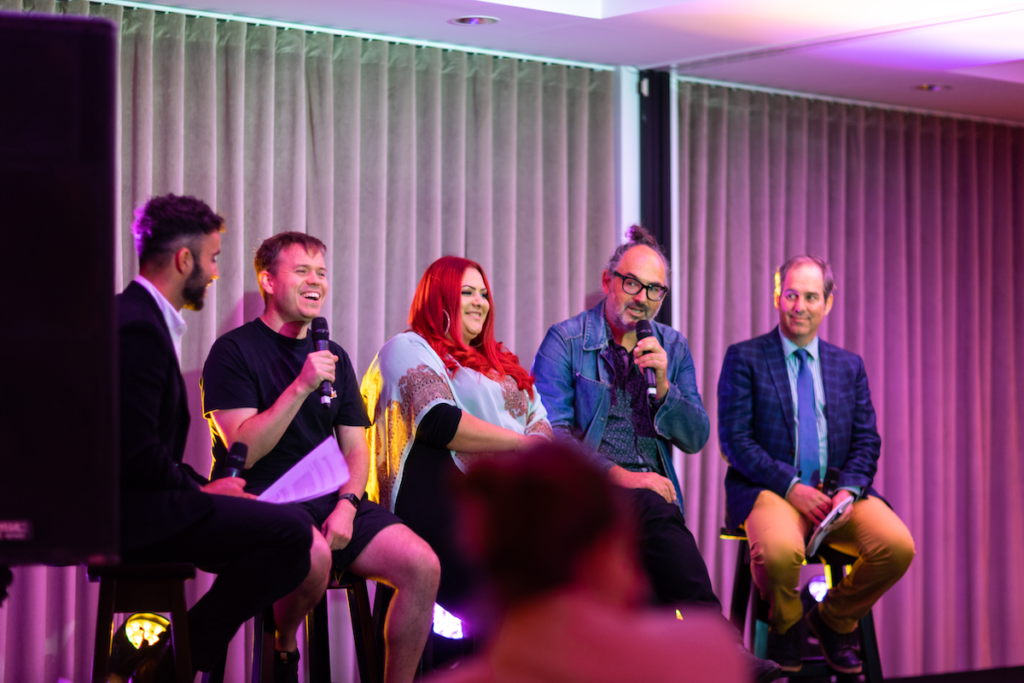 Some of the key takeaways and action items from the discussion included: 
Collaboration

across the different industries and with local and state governments is essential for the success of life after dark in Western Sydney.

Collectivism

will support the elevation of the rich cultural offer in Western Sydney's nightlife – communities need to align and organise to ensure they are positioned to maximise their opportunity for growth and to thrive in this new chapter in Western Sydney's culture and nightlife.



COVID-19 has presented a greater opportunity for

localised nighttime economies

across the region – Western Sydney has many nighttime experiences that consumers used to travel internationally to experience. Give the community what they want and mirror these in the pockets of Parramatta that offer unique ways of creating experiences.

Safety depends on diversity and inclusion and the success of new transport infrastructure will require active civil, industry sector and government participation to change social norms to provide a safe and cost-effective journey for users of the nighttime economy.

Throughout the week VibeLab hosted a week-long series of industry-led sector workshops involving actors from the verticals of the nighttime economy – hospitality, live music and entertainment, major events and cultural tourism, transport and health & safety. 
Key takeaways from each of the workshops plus recordings of each of our international speaker's keynotes and in-conversations can be found below.
Hospitality Workshop
On Monday 15 November, international guest Zaran Vachha (The Mandala Club, Singapore) joined local sector experts Andrew Levins (DJ and famous food critic) and Arthur Tong (Co Founder of Tea Craft) to host the Hospitality sector workshop.
"Residents need places to go as part of a 'Ritual' – that's how you form going-out habits." Andrew Levins – Food critic, co-host of Hospitality workshop
Key Takeaways
Parramatta must

shake the 'second city' tag. The PR messaging from the inside out and the inside in must capitalise on the value that Parramatta inherently possesses.


Stakeholders, planners and placemakers need to

approach Parramatta very differently to Sydney's CBD

. Parramatta is uniquely positioned to be at the forefront of world-class food offerings in Greater Sydney.  

A balance of independent and chain businesses, smaller capacity and larger capacity bars and restaurants for economies of scale, and to create a critical mass of diverse nighttime offers.
Live Music and Entertainment Workshop
On Tuesday 16 November, local sector experts Vyvienne Abla (Vyva Entertainment) and Türkan Aksoy (Justice, Equity, Diversity and Inclusion Consultant) hosted the Live Music and Entertainment sector workshop. The workshop also included an in-conversation with Megane Quashie, aka Megatronic – a culture producer and DJ based between London and Dubai.
"We don't want a seat at the table. We want to be at the centre of the table." Thelma Thomas "Mc Trey" (Creative Activist)
Key Takeaways
Parramatta and Western Sydney tell their own narratives. By championing and sharing these stories both inwards and outwards will amplify the uniqueness of this region.

Local stories define the culture

here and provide essential cues for thriving creative precincts.

With the immense public and private investment into the region,

community consultation, engagement and collaboration

are vital to ensure that this investment trickles down to the grassroots. The grassroots collectives, communities and organisations will keep the culture and activity sustainable and thriving all year round. 

There is a massive gap from start-up artists to sustainability for artists. Filling the space in between will require

hard and soft infrastructure for this sector

– venues with ranging capacities, education, mentorship and professional development, toolkits to assist local artists and businesses to navigate the national and international creative industries systems. 
Watch back Megane's in-conversation live recording below.
Major Events & Cultural Tourism Workshop
On Wednesday 17 November local sector experts Jeffrey Stein (City of Parramatta) and Hayley French (Parramatta Artists' Studios) hosted a Major Events and Cultural Tourism sector workshop. The workshop included an international in-conversation with Jan Willem Van de Ven, Amsterdam – Co Director of Amsterdam Dance Event (ADE) – one of the world's biggest culture, music and tech events.
"ADE's communications and marketing make sure the brand is brought to the consumer in the way we want it, and there always has to be enough Dutchness." Jan-Willem van de Ven – Co-Director, Amsterdam Dance Event (ADE)
Key Takeaways
COVID recovery for the major events sector includes the hosting of outdoor events as a key risk mitigation. This presents a challenge for Parramatta, which has experienced

environmental challenges for the past three years between unprecedented storms, bushfires and rising temperatures

. 

In the experience economy,

Parramatta and Western Sydney have a distinct advantage through its cultural diversity

. Prioritising local culture front and centre of major events and festivals will retain the integrity and elevate the unique experience that only this region can deliver. 

There is a new mindset emerging about Western Sydney as a creative tourism location, and there is an opportunity for

cross-sector, local and state government collaboration

to align on singular messaging across the region. 

Collectivism to support cohesiveness between the cultural programmers of the region will support each LGA in Western Sydney having its own distinct offer. Ongoing dialogue such as the Global Cities After Dark workshop will support this.
Watch back Jan-Willem's in-conversation live recording below
Transport and Health & Safety Workshop
On Thursday 18 November, sector experts Michael Jollon (City of Parramatta) and Dayle Bennett (Transport for NSW) hosted a Transport and Safety sector workshop. The workshop included an international keynote from Dr Kaplana – a leading safety and transport expert from New Delhi, India.
Key Takeaways
Gender and inclusivity

must be considered when building transport infrastructure as women-identifying are the majority of public transport users who 'trip-chain' their journey making multiple stops to accommodate largely unpaid work such as household errands, caring for children, the elderly or disabled people.
Moving beyond a crime focused perspective towards

understanding the impact of fear

and addressing the normalisation of sexual assault is an immediate responsibility to be shared across all nighttime economy stakeholders. 
The misconception is that the 24-hour nighttime economy

involves bars and gigs that create noise pollution. However, nighttime after-hours includes other dimensions such as late-night museum offerings for family-friendly entertainment, after-hours dining and family-friendly attractions.
Watch back Dr Kaplana's live keynote below
With all stakeholders in the nighttime economy working together, new ways of engaging the community will deliver a uniquely Parramatta experience after dark. An aligned vision and continued collaboration between industry stakeholders, local and state government, will elevate Parramatta into an exciting major city with a thriving 24-hour economy for locals and visitors to experience.
The team at VibeLab are now compiling the outputs, best practices and recommendations derived from the workshops during the week. These will be published in the Global Cities After Dark Parramatta 2021 Future Proofing Report. We anticipate that this report will be published in early 2022.
Global Cities After Dark Parramatta is supported by the NSW Government and City of Parramatta.